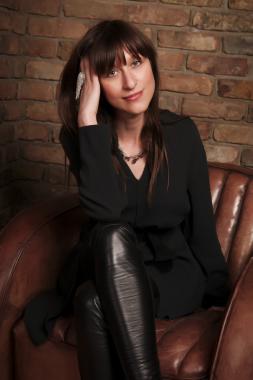 Growing up in the USSR where variety and choice were scarce, shop shelves bare and everything dominated by a dreary colour palette, drove me to desire to be different. I rebelled by customising my apparel and begging my parents to have my clothes made rather than bought in order to stand out from the crowd.
My first school uniform was made by a local seamstress and my first ever pendent carved from a silver rouble by a family friend.
So living in London presented me with a greater challenge. Vintage, bespoke and my precious buys from my travels became an answer.
Each and everyone of us is unique: from our DNA to personality, to our sense of style.
There is nothing I like more than to design and create jewellery for people who strive to be different, appreciate value of hand made and like me, love bespoke!
I always felt love for fashion, style and design and ever since I've studied jewellery design, it became my passion and obsession.
My aim as a jewellery designer is to create one-of-a-kind or limited addition pieces that one would love and treasure.
I strongly believe that jewellery should not just be worn as an adornment, but have a special connection with the wearer either through symbolism and hidden meaning or through the feeling it gives your senses.
Be unique. Wear bespoke.